Lasai
A web to navigate with calm. Generate commercial opportunities in the nautical sector through the digital channel.
Services
Digital business
Communication
The digital channel as a generator of business opportunities.
In collaboration with the agencies LANA and Mediasal, we have embarked in an international project aimed at securing business opportunities for a nautical company dedicated to the design, manufacture and commercialization of solar-electric boats.
We developed for LASAI a website that aims to effectively convey the brand's value proposition in its commitment to a new form of mobility and leisure, more sustainable and environmentally friendly.
In order to respond to the moment of product launch at Boot 2023, the Düsseldorf Boat Show, we launched a campaign landing page aimed at attracting qualified leads; contacts with which to form the agenda of meetings of a strategic event to present LASAI's proposal to the market.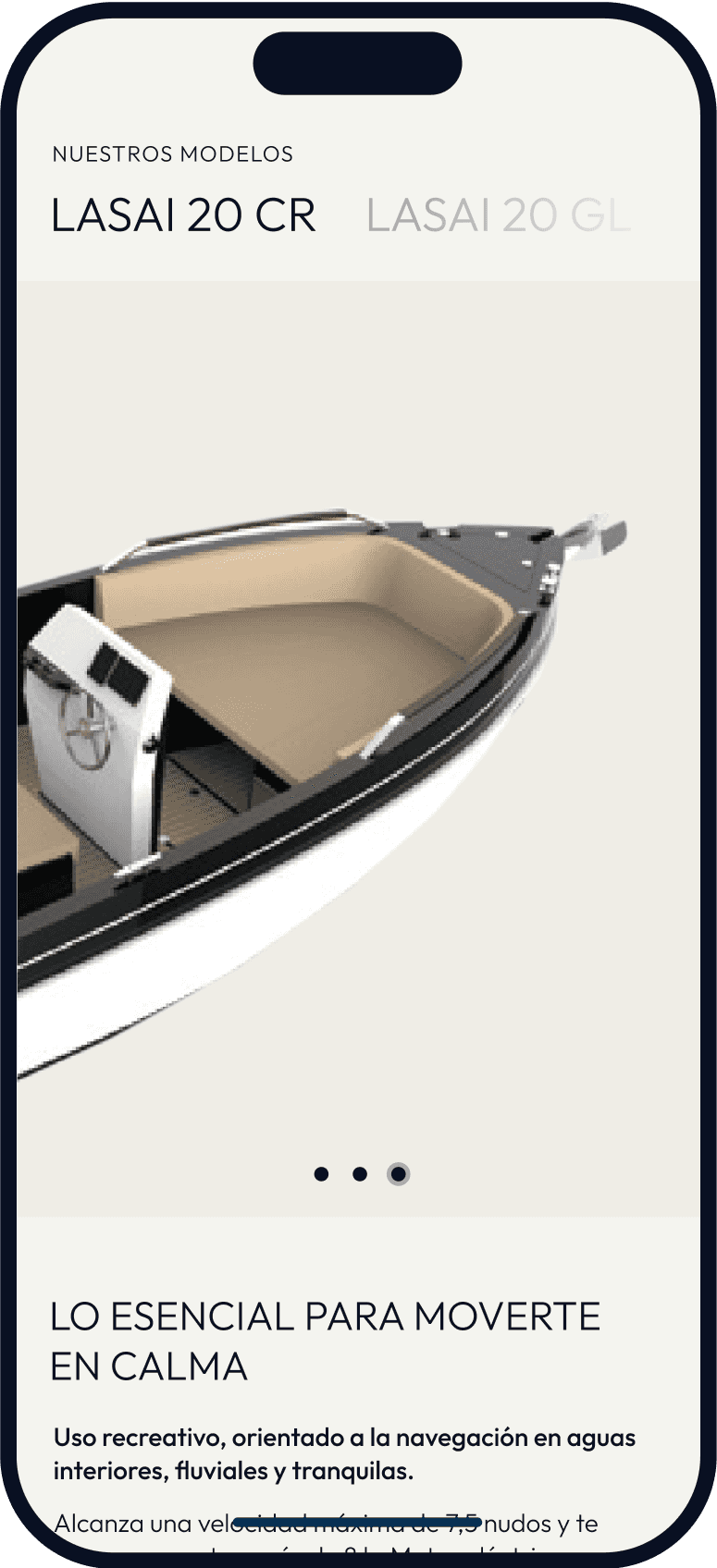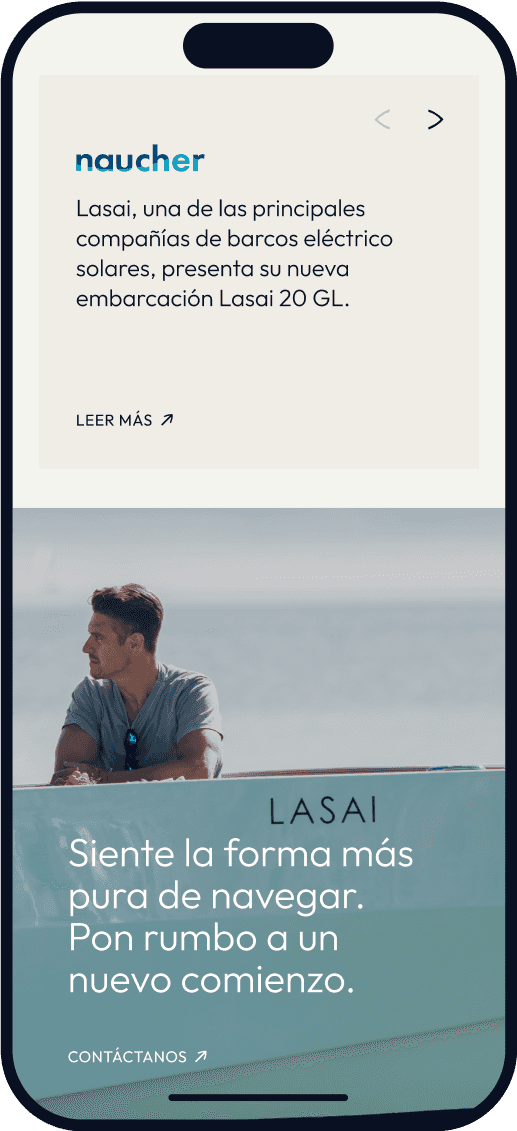 We value LASAI's differential proposal and facilitate the request for information via web by potential customers.
User experience faithful to the brand identity.
We create a digital experience that from the first moment, in addition to facilitating the attraction of new business, is capable of transferring LASAI's differential value proposition to the digital channel. Through the UX/UI design, we reinforce a positioning that has to do, mainly, with a quiet, sustainable and environmentally friendly navigation, powered by solar-electric energy.
In order to build trust, persuade and provide a clear response to users' concerns, we nurture the website with both technical and emotional content. To do this, we rely on the brand storytelling, as well as on the keyword research previously carried out within the SEO positioning strategy.
From here, we designed a multi-language website, usable and accessible. An easily scalable project, capable of integrating different functionalities and contents depending on LASAI's needs at any given moment; from product sheets and configurators, to landing pages, forms, etc.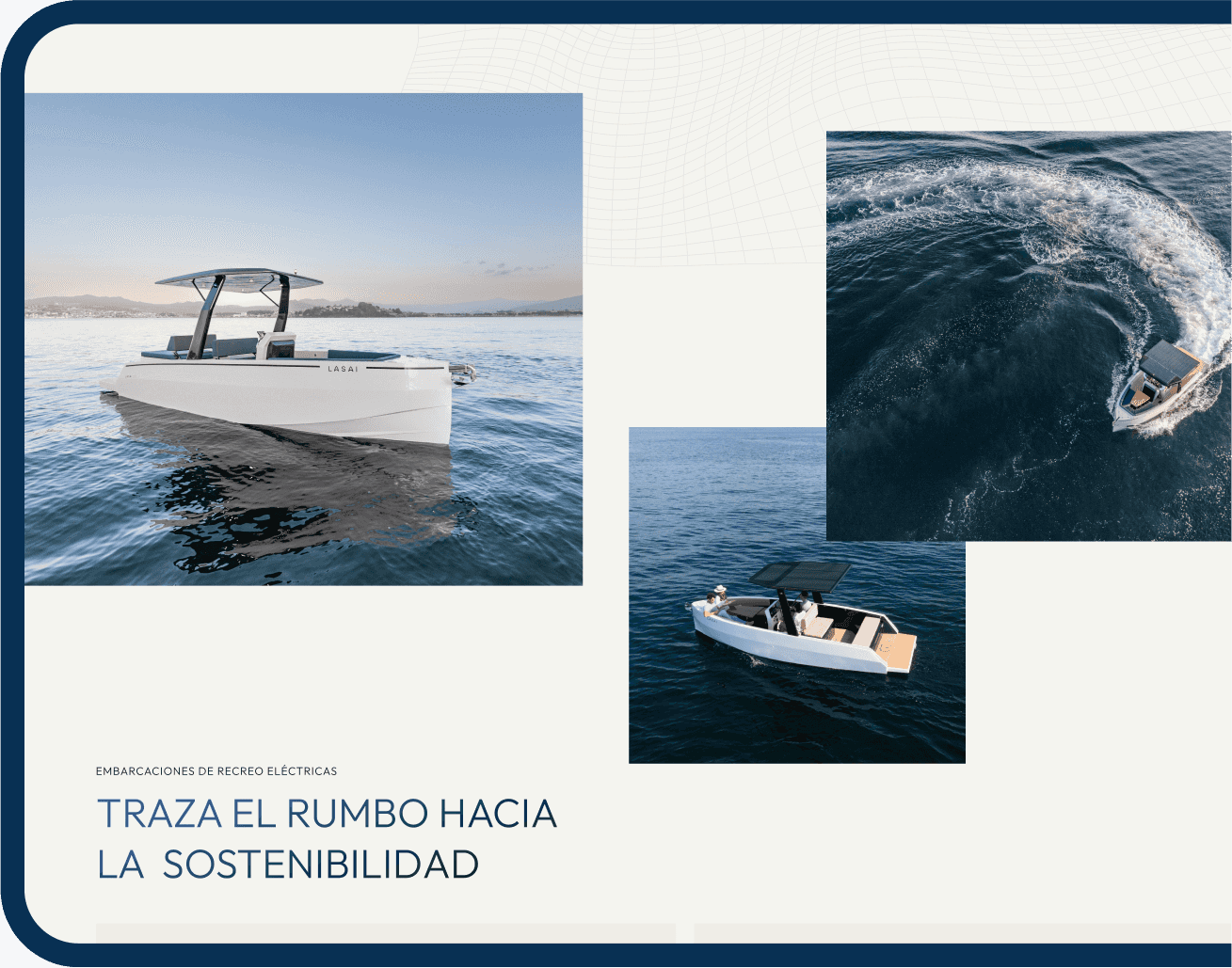 We conceived a digital ecosystem aimed at responding to LASAI's challenge to become the European leader in solar-electric boats.
A technical solution with performance as a priority
The technological choice for the development phase is a frontend web architecture based on Nx + Astro, a framework that provides an effective response to the key requirements of the project. In this way, we achieve an optimized performance and user experience thanks to minimum loading times and, with an eye on future needs, we benefit from its great flexibility and versatility.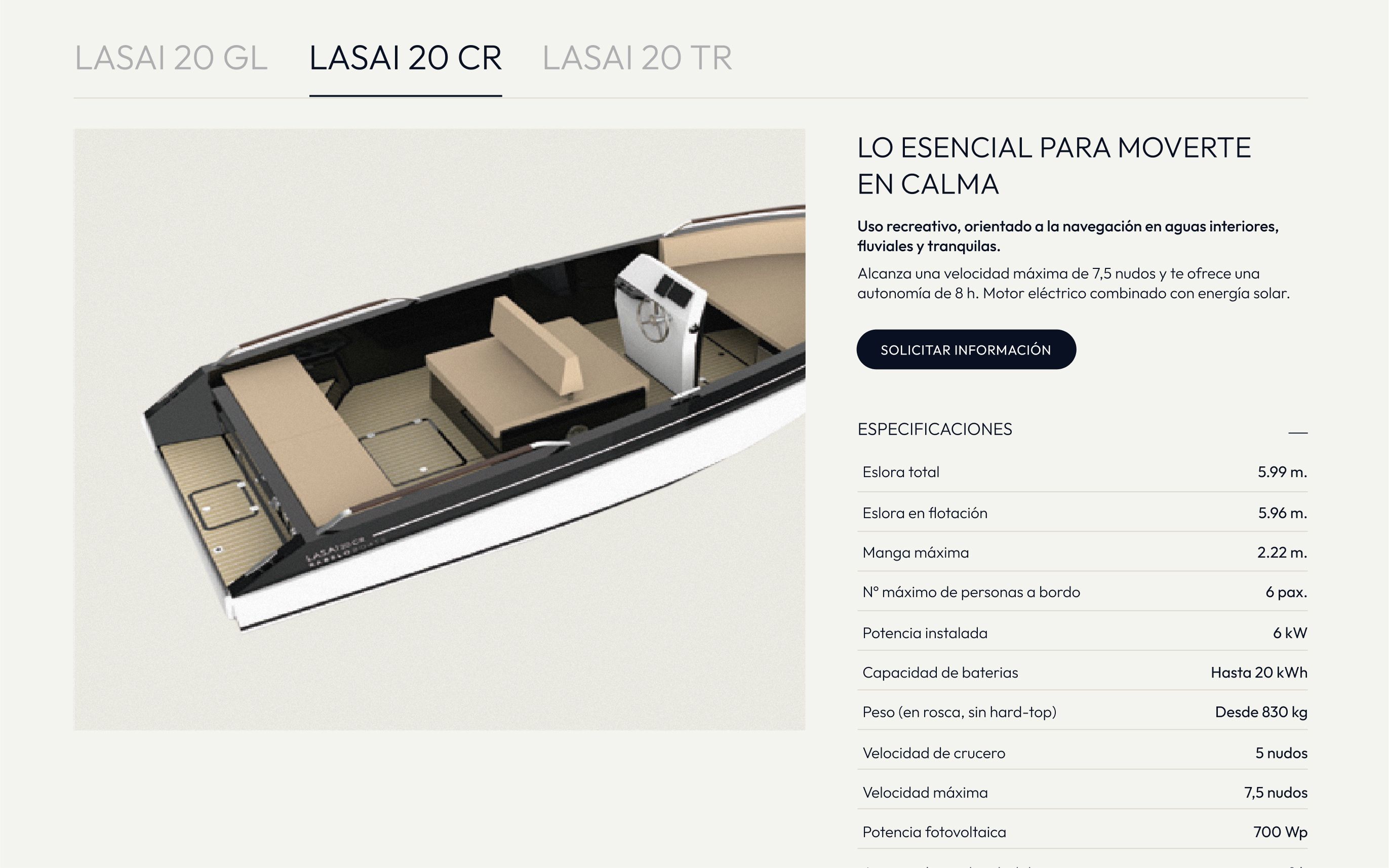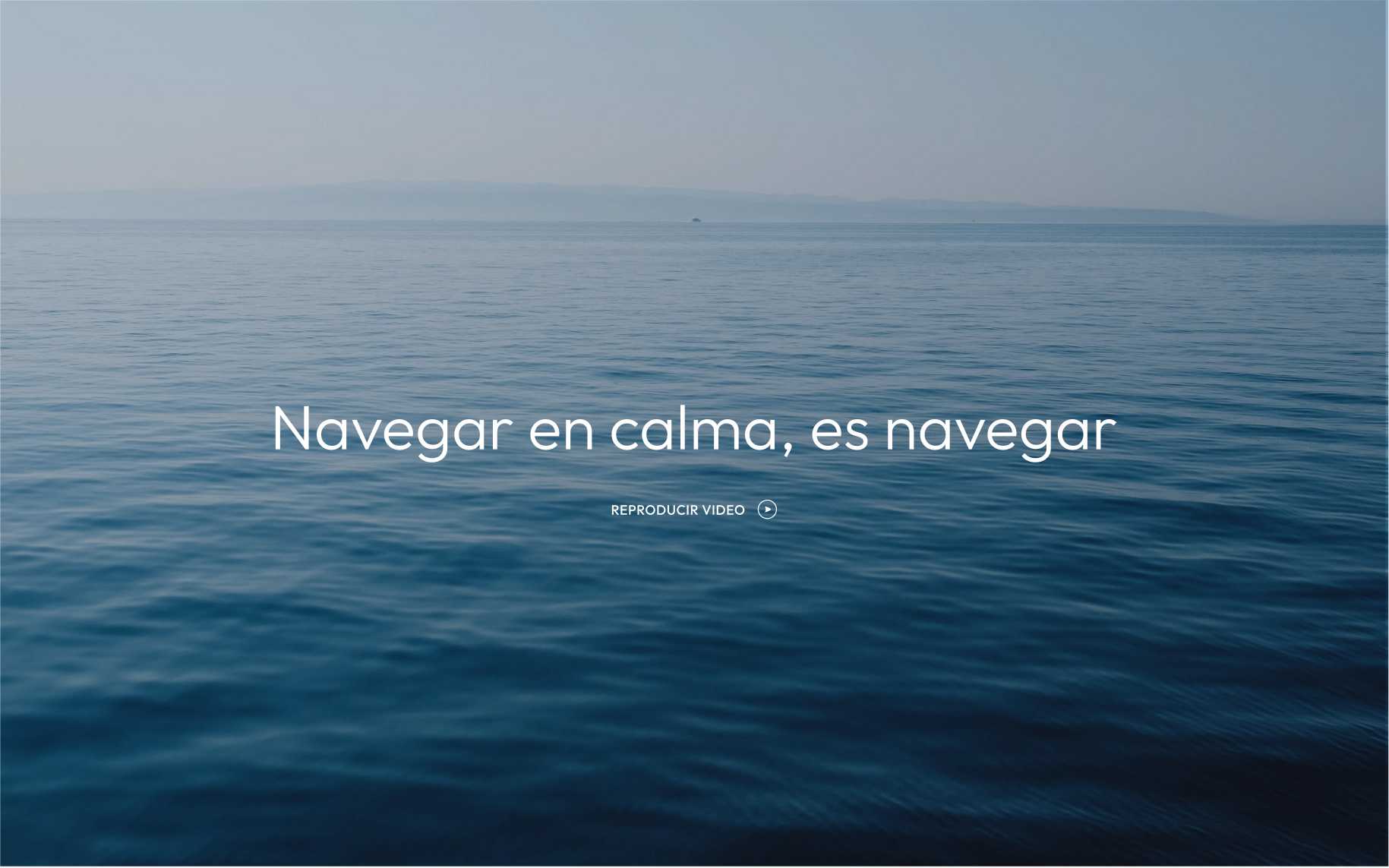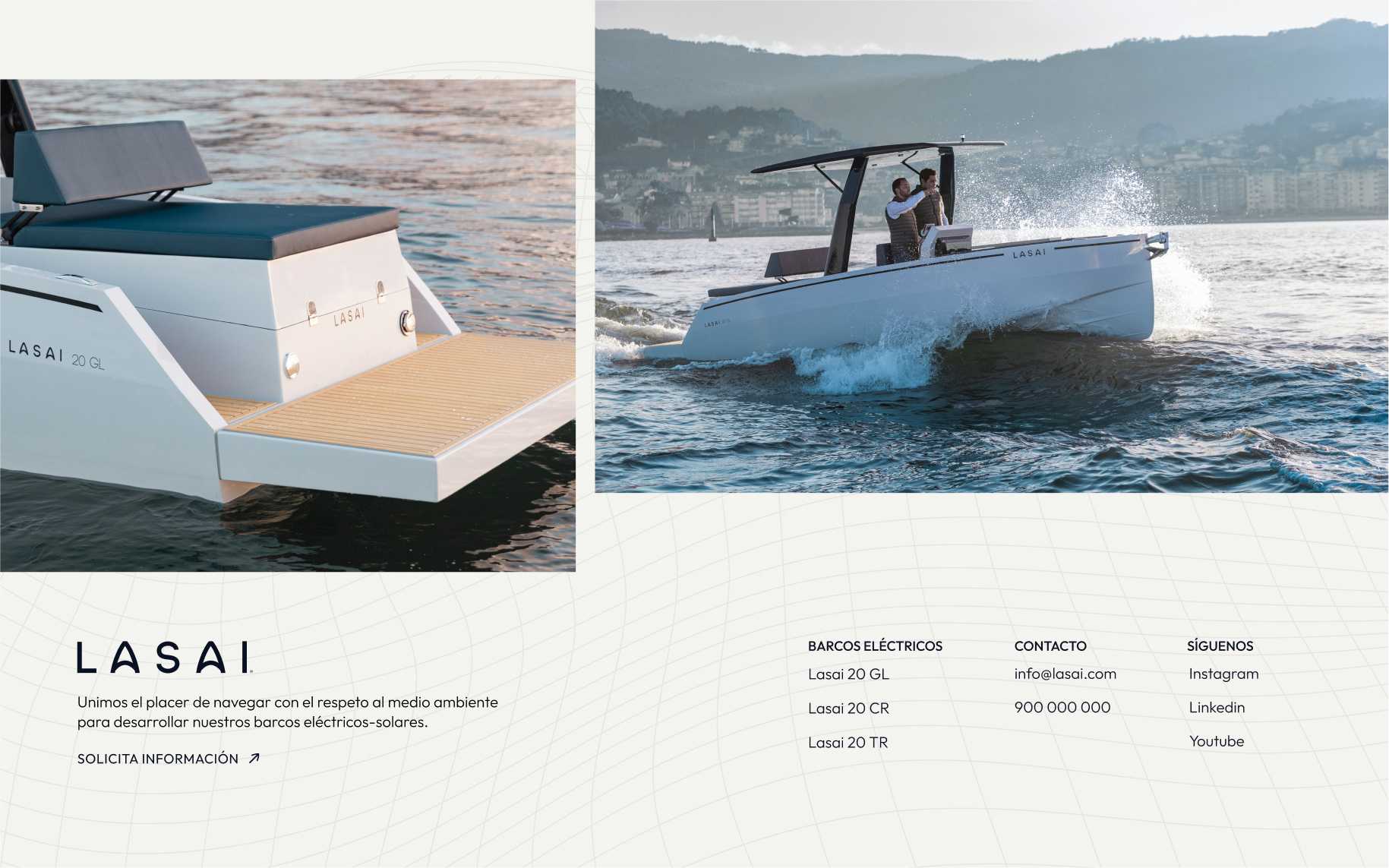 We were able to guarantee really fast loading and interaction times with an architecture based on Astro and Nx.
Navigate calmly, also in social networks
To promote brand recognition and notoriety, the project is complemented by the definition of a social media strategy. Analyzing the market and the competition, identifying opportunities and defining in depth the different audiences, allows us to provide LASAI with a solid foundation for the management of a presence in social channels focused on Instagram, Facebook and Linkedin.
In this way, we have shaped a plan for networks with the capacity to generate engagement, arouse interest in the community, as well as reflect the brand values and corporate culture, in which aspirational content, of an experiential nature and linked to the lifestyle presented by LASAI, takes precedence.
Beyond the web: commercial presentation
In order to support the launch of the LASAI brand, we created a complete presentation that contributes to the development of its positioning in the nautical market. A complete corporate document that supports the company's commercial team in establishing new alliances and generating business opportunities.